Your
Next
Game Launcher.
Have you lost track of all the game clients and launchers? And the games as well?
Then you definitely need another game launcher!

Your Universal Game Launcher

Main Features
Beautify Your Library
Switch between beautifully designed views for your games library. You beloved games deserve it.
Visual DOSBox Frontend
Setup, install and configure all your good old DOS Games visually with the Launcher Profile for the DOSBox Emulator.
Organize Your Games
Organize & categorize all your games & software, add genres, tags, documents, images and Information.
100% Local
No internet connection needed. No tracking, no store front, just your games.

Launch Everything
Connect any executable on your pc with the Launcher. And launch it.

Launcher Profiles
Simply select the profile for your game: DOSBox, ScummVM, Steam, GOG, Epic.

One Launcher For All Your Modern And Old Games!
Beautiful Game Views
In addition to the standard grid view, there are other beautifully designed views to always present your games in the right way. Grids, carousel, tables, galleries. You beloved games deserve it.
Visual Emulator Configuration
It's easier than ever to get your old DOS games running with the DOSBox emulator. Mount drives, manage config files, special install mode and much more. All in a visual way. Completely included in the free version.
Easy Organize Your Games
Easily management of your games through powerful filters and bookmarks. Tag a game with "Must play" and bookmark the tag. You'll never forget what you want to play next.
The Hurry One
You don't want to see the latest offers and a store front first? You don't want to update the damn client first? You just want to start your game? Now? Then the Universal Game Launcher is your friend.
The Archaeologist
Found that old DOS game on a dusty floppy disk or a rusty CD-ROM and can't get it to run on your modern PC? The Universal Game Launcher helps you to configure, install and start your game using DOSBox. Mount drives, mount ISOs, select start parameters – all visually and easily without having to fiddle around with the console or config files.
For configuring DOSBox games, Universal Game Launcher is the best choice.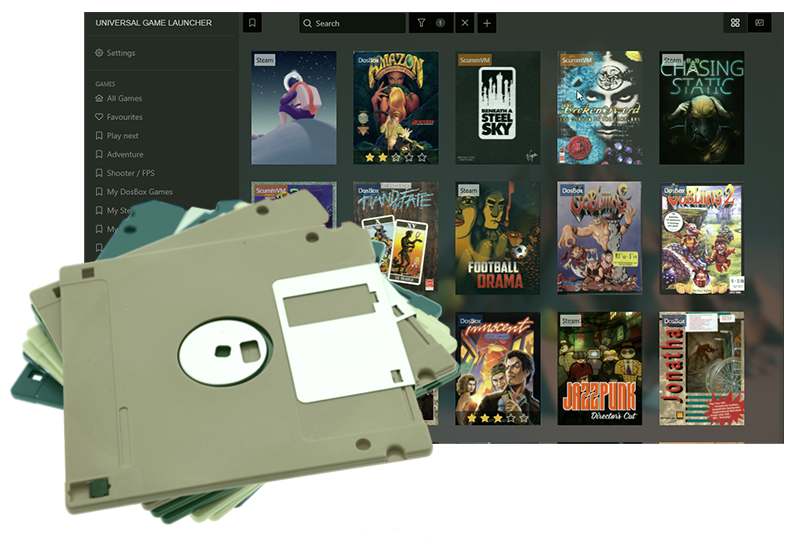 The Collector
Do you have a huge game collection? You want to categorize and catalog them meticulously?
Would you like to see all your games at a glance?
You want to quickly see how many flight simulations you have? How many fantasy roleplaying games? How many point & click adventures with a female protagonist?
The Universal Game Launcher will help you.
The Forgetful
Which game did I have on Steam and which one on GOG? Or was it on the Epic Store? What games have I finished? And what the hell was I going to play next?
With Universal Game Launcher's flexible filters and tags, you'll never lose track again.
The Careful One
Don't want to be tracked? Don't care about stats and achievements? Don't want to know how much time you've sunk into a game? Don't want your client to send everything out into the world? Don't care what your friends play? Then the Universal Game Launcher is the right choice.
If you start a DRM game from Steam, Origin or Epic, you have to log in to the respective client. Then you will probably be tracked. But never from the Universal Game Launcher.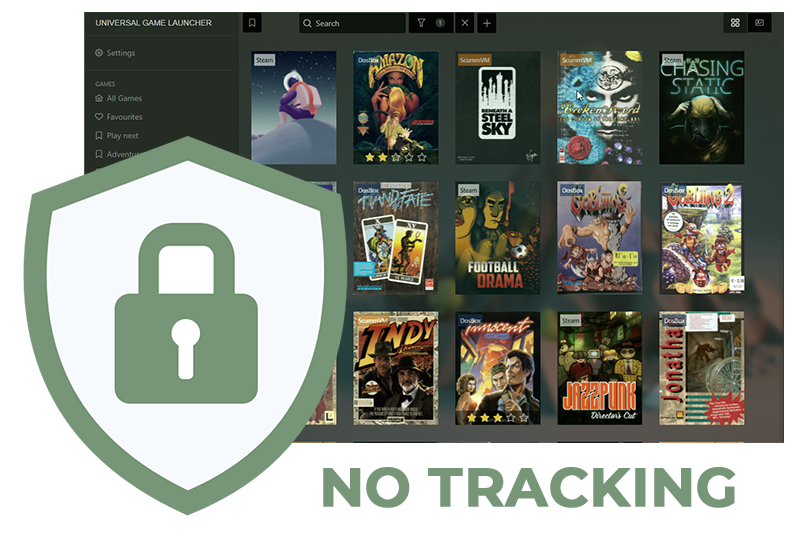 Ok, But What Makes This Launcher So Outstanding?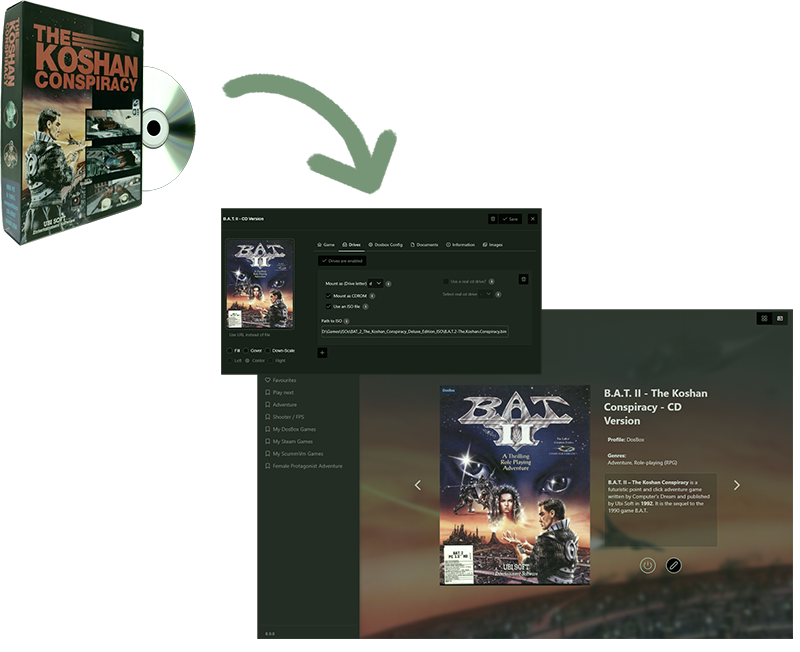 Well, the launchers on the market are all pretty good. You can add games from one library to another and vice versa. You can add executables from your computer. You can sync anything. Perfect. Perfect?
What about that one DOS game from 1993? This is not listed on Steam or GOG. This is physically on a CD-ROM on the table in front of you. What now? No chance of getting this game to work using Steam or GOG clients.
This is where the advantage of the Universal Game Launcher comes into play.
Because the tool was originally developed as a frontend for DOSBox to be able to manage and start all our DOS games in a modern way.
Free or Pro? Select Your Version.
Buy the Pro version
You can buy Universal Game Launcher Pro on Itch.io. You don't need an account. To purchase, you can simply use the widget or visit our product page on itch.io.
Download the free version
The free version is also available on our itch.io page. You find the download on the Download demo section.
The itch.io widget to buy the product is currently blocked because of your privacy settings.
Click the button below to load the itch.io widget.

START WITH YOUR NEW
GAME LAUNCHER TODAY
Download the Universal Game Launcher for free.